7 Day Meditation Challenge- Join Us!
February 2, 2023

Posted by:

Danielle Brunson

Category:

Breathing

Meditation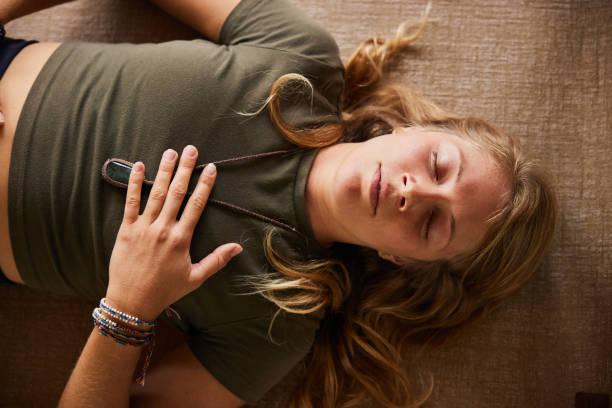 Welcome to our 7 Day Meditation Challenge!
We are so excited to invite you to join us on a journey of self-discovery and inner peace. Whether you are new to meditation or an experienced practitioner, this challenge is designed to help you build a consistent and sustainable meditation practice.
Why Meditation?
Meditation has been proven to have a wide range of benefits for both the mind and body. Here are just a few of the many benefits that you can expect to experience during the challenge:
Decreased Tension Related Pain
One of the most immediate benefits of meditation is that it can help decrease tension related pain. This includes headaches, muscle tension, and even chronic pain conditions. When we meditate, we learn to release muscle tension and relax the body, which can help alleviate pain.
Improved Immune System
Meditation has also been shown to improve the immune system. Studies have found that regular meditation practice can increase the production of immune cells, which can help our bodies fight off illness and disease.
Increased Energy Levels
Meditation can also help increase energy levels. When we meditate, we're able to focus on our breath and release tension, which can help us feel more energized and alert.
Lowered Blood Pressure
Finally, meditation has been found to lower blood pressure. This is because meditation helps us to relax, which can lower our heart rate and decrease the amount of stress hormones in the body.
What to Expect
During the 7 Day Meditation Challenge, you will receive a daily email with a different meditation practice. Each practice is designed to be short and easy to fit into a busy schedule, with most practices lasting between 5 and 10 minutes. This means that even if you are short on time, you can still make meditation a part of your daily routine.
The practices will be a variety of meditations, including guided meditations, body scans, and mindfulness practices. This will allow you to experience the many different forms of meditation and find the practices that resonate with you the most.
How to Participate
To participate in the 7 Day Meditation Challenge, all you need to do is sign up for the challenge by filling out the form below. Once you have signed up, you will receive a daily email with the meditation practice for that day. You can then meditate on your own time, at a time that works best for you.
We recommend setting aside at least 5-10 minutes each day for your meditation practice. It is also helpful to choose a quiet and comfortable place where you can sit without distractions.
Join the Community
One of the best parts of the 7 Day Meditation Challenge is the community that you will be a part of. By joining the challenge, you will be connected with other people who are also working to build a consistent and sustainable meditation practice.
We encourage you to share your progress and experiences with the community, and to support and encourage others as they work to build their own practices.
Sign Up Today
We invite you to join us on this journey of self-discovery and inner peace. Sign up for the 7 Day Meditation Challenge today and take the first step towards building a consistent and sustainable meditation practice.
 By participating in this 7 Day Meditation Challenge, you will not only experience a variety of meditations but also improve your overall wellbeing. With 5-10 minute practices, it is perfect for busy adults and can be done on your own time. Sign up now and see the benefits for yourself!
Click here to sign up!
 Looking for more mindfulness tips? Sign up here!
Author:danielle@thenamasteproject.net
Danielle Brunson is a E-RYT 200 certified yoga teacher and a certified meditation and mindfulness teacher trained by the Greater Good Science Center at UC Berkeley. In addition to teaching yoga she is the Co-Founder of The Namaste Project, a mindfulness and meditation company that provides training to adults in public schools, businesses, and community settings. Her approach to yoga and mindfulness is centered in accessibility and inclusivity. Danielle also has an extensive background in education and educational leadership with over 15 years of classroom and administrative experience in bricks and mortar and virtual school settings. She is passionate about using her skills as a teacher leader and trainer in combination with skills as a yoga and elementary teacher to bring yoga and mindfulness to as many students and adults who work with them as possible.