A Personal Yoga Journey to Better Mental Health
January 12, 2022

Posted by:

Jamie Schlef

Category:

Yoga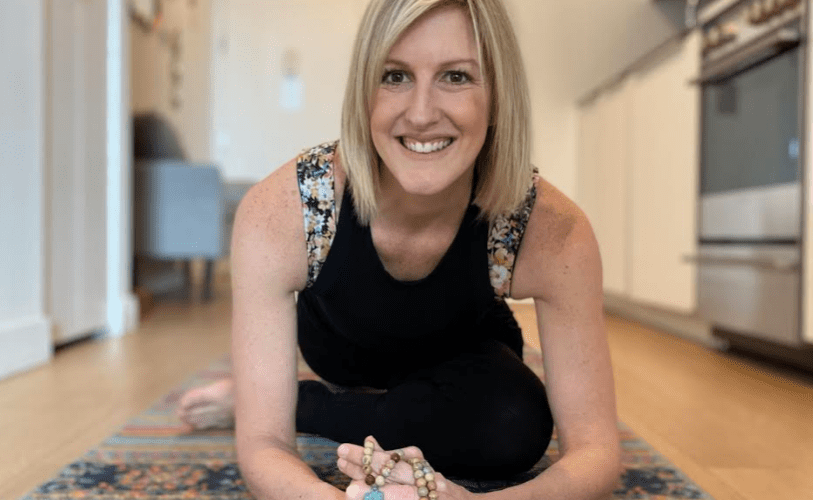 My yoga journey started as a physical practice and evolved into a way of being.  A way of living.  It wasn't expected or planned.  It just happened.
Dominant society pressures us to be perfect. Married, smart, in shape and popular with a successful career and happy family.  Those ideals are pushed on us at a young age and we carry them with us our entire lives…ugh!  I was a valedictorian of my class and my graduation speech centered around the idea of being perfect.  Although my goal was to share the idea that being perfect should not be expected, it wasn't until recently that I began to accept my imperfections as ok.  Yes, 20 years later.  My internal struggle with perfection, as well as how life naturally unfolded, lead to anxiety and depression.  Unfortunately, these feeling are more common than we want to acknowledge.  "Anxiety disorders are the most common mental illness in the U.S., affecting 40 million adults in the United States age 18 and older." aada.org  Anxiety, depression and mental health issues are real and painful.
I wanted to get in shape, so I tried yoga.  I was dying for "Madonna" arms and "Carrie Underwood" legs.  Although I felt super awkward the for the first 6 months, I enjoyed the classes and kept going.  (Now that I write this, I still feel awkward doing yoga at times – it's completely normal to feel that way.)  I chose the most difficult classes, with challenging teachers and used savasana as an opportunity to plan my day.   After several years of practicing yoga, not so seriously, I experienced trauma.  Two wonderful people, whom I was close to, died.  After losing them I felt (and sometimes feel) alone, helpless and sad.  These losses sparked feelings that I had never felt before. Panic attacks. Insomnia. Zero energy.  My mental health ignited a new relationship with yoga.  At first, I couldn't make it through a yoga class without bursting into tears.  Then I focused my attention on noticing my feelings.  The dharma talks resonated differently and took on a stronger meaning.  Connecting with my breath served as a tool to calm my anxiety and wrangle in my racing mind.  As I grieve, the principals and teachings of yoga continue to reveal themselves –
Be kind to yourself and to others.
Your breath can change your energy.
Don't judge. Be grateful and present.  Be YOU.
Every human deserves to be heard, loved and cared for.
I'm not perfect and that's ok.
Now, let's be real, yoga wasn't a silver bullet that solved all my problems.  For me, yoga transformed into a lifestyle that helps me manage my mental and physical health in a positive way.  The benefits I notice are peace of mind, higher self esteem, relaxation, stronger focus, flexibility and muscle strength.  You can read more about the benefits of yoga here –
https://www.yogajournal.com/lifestyle/health/womens-health/count-yoga-38-ways-yoga-keeps-fit/
In 2019, I moved to NYC to work at Walmart Connect on the sales team. Missing my besties, I invested in yoga teacher training in hopes of building relationships with like minded people in the city.  Teacher training kicked off in person before COVID and finished in quarantine through Zoom.  It was a strange time full of uncertainty as we wrapped up our weekly homework and planned our graduation classes.  I think we all expected to go back to the studio for our ceremony and get our 200 hour certificates in person, but it never happened.  The overall experience brought our training group closer together and my theory proved to be true – I met amazing people.  Three of us bonded, magic happened  and we established Alt Yoga Collective.  We leaned into our passion and determination to make change in the yoga industry.
Alt Yoga Collective's mission is to remove barriers to make yoga available.  Lack of time, budget constraints and intimidating environments are examples of barriers that get in the way of developing a yoga practice.  Alt Yoga Collective offers FREE, live, online yoga classes at a variety of levels.  Yes, our classes are free, but if you have the means we accept donations to fund our Mat Program.  Monies collected are used to purchase yoga mats for those who need them.  We partner with non-profit organizations and respond to direct mat requests to make yoga more available.   Alt Yoga Collective is an opportunity to do/teach yoga, while also positively impacting our communities.
In 2020, I lost my step father to COVID, leaving another hole in my heart.  The hurt isn't less this time, but how I am handling the grieving process is healthier.  I give credit to my yoga practice.  Yoga transformed me on and off the mat.  I still don't have "Madonna" arms or "Carrie Underwood" legs, but that's not what yoga is about.  I have also accepted that I can't control the external factors that bring stress, pain or unhappiness.  I can control my reaction.  Taking care of myself by resting my mind, listening to my body and moving helps me heal.  Since then, I leaned into the practice more and completed my advanced yoga teacher training, earning my 300 hour teaching certification. (RYT 500)
I was introduced to the Namaste Project through Alt Yoga Collective.  Alt Yoga Collective was honored to provide over 100 yoga mats to Beecher Elementary School, in Atlanta, GA to help build their yoga program. I am inspired by the Namaste Project.  Their dedication to promote mindfulness, yoga and meditation in schools and for teachers/parents is incredible.  I believe yoga is the best thing you can do for your mind and body.  Looking back, I wish my journey started when I was in elementary school.   Because of organizations like the Namaste Project, yoga journeys will have more time to grow.   It's one step in the right direction to have a more mindful and less anxious world.  A new way of being.  Where it's ok not to be perfect.  Where we learn to express our feelings in a healthy way.  Where we are kind to ourselves and others on and off the yoga mat.  My yoga journey is not nearly over.  It's just happening and I am going for it.