The Mindful Student for 9-12 Teacher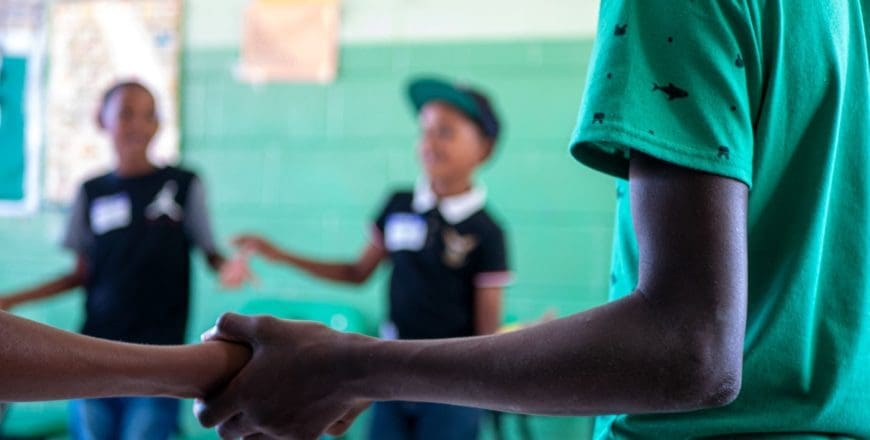 A student centered program designed to support K-12 students by providing
teacher led curriculum focused on somatic strategies to regulate emotions and behavior
weekly instructional videos
At-home activities for students to complete with family members
Lesson plans to complement the video
Printable guides and resources
Teacher training on implementation
Data and reports
To significantly
support students mental health and wellbeing
shift the school culture to a more mindful environment driven by the educators
decrease disengagement
decrease discipline referrals
increase energy, motivation, and clarity
provide tools to effectively manage daily stressors and major life events.
Before you get started
1
2
3
How to Navigate the Curriculum.
Self Awareness
1
2
3
What's a Nervous System and Why is it Important?
4
Mapping the Nervous System at Rest.
5
Let's Make a Map! The Nervous System When Activated.
6
Ways to Regulate. Shake it Off.
7
Ways to Regulate. Befriend Yourself!
Self Management
1
2
3000 Ways to Name your Feelings.
3
What to do When I have Strong Feelings.
When I have strong feelings teacher view
4
Creating Compassion for Ourselves. RAIN
5
Ways to Regulate. Grounding and Resourcing.
6
Ways to Regulate. Movement Works!
7
An Attitude of Gratitude.
Responsible Decision Making
1
What is Responsible Decision Making?
2
3
S.T.O.P Stop. Take a Breath. Observe. Proceed.
4
5
Emotions That Impact our Decisions.
6
7
Relationship Skills
1
What are Relationship Skills?
2
How to Connect with Others.
3
Communicating What You Need to Friends and Family.
4
Mindful Listening With Friends.
5
D.E.A.R. Describe. Express. Assert. Reinforce.
6
Creating Boundaries in Relationships.
7
What is social awareness?
1
What is Social Awareness?
2
3
4
Check the Facts. Does Your Response Fit the Situation?
5
Social Cues. Recognizing Others Clues.
6
It's a Vibe, How to Co-regulate With Others.
7
Ways to regulate. Using Your Voice.
Kids Yoga
1
2
3
4