Walking Meditation and its Benefits
January 26, 2023

Posted by:

Kali Arnold

Category:

Meditation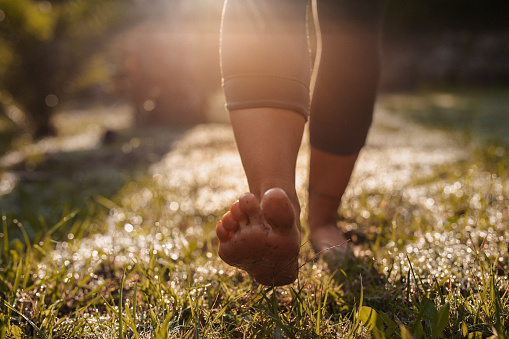 Do you struggle with meditation? Guess what…us too. When it seems like sitting on your mat is impossible we have a solution for you. Walking meditation.
How do you do walking meditation?
It's easier to do then you think… you walk in a straight line or in a circle for a distance of 10-20 steps (you can try longer distances) at a slow pace, your eyes are directed to the floor in front of you, but not focused. See, you probably already do some of this practice!
It is recommended to meditate barefoot – connecting with the earth and grounding yourself, but it's not required. We definitely don't want you stepping on anything that may hurt your feet. It's important to focus not on the movements of the legs, but on the bodily sensations that arise when walking, on the sounds around, breathing, and try to free the mind from any thoughts (as. best as you can).
Walking meditation can be practiced anytime, on the morning on the way to work, during a lunch break, after dinner…. It doesn't matter how much time you have left – every minute counts! This practice has a positive effect on our thinking and health – sometimes even more effective than sitting meditation.
What are some of the benefits of walking meditation?
Improves blood circulation
Listen we are all sitting all day. It's just life in these times. Working on a computer, watching TV, doom scrolling on the phone. Walking meditation provides an easy way to also increase blood circulation which relieves stress and creates space for joy.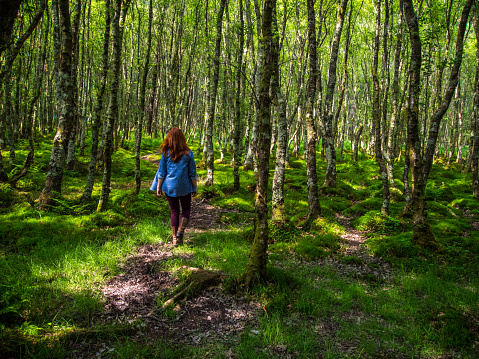 Helps fight stress
If you suffer from constant restlessness and anxiety, then meditation can help. In 2017, a study was conducted that showed significant changes on an emotional level in a group of people who meditated for 10 minutes before, after, or while walking. The result of the group that just walked without meditating was not as impressive.
Improves digestion
Walking after lunch or dinner is the most effective way to improve digestion. It's also a great way to spend time with family members. Include a quick walk after dinner together this week! You can all walking quietly paying attention to the sensations and how you feel while walking.
Fights depression
Exercise = Endorphins. Endorphins are the feel good chemical that rushes through Walking sometimes isn't viewed as a way to dip into this endorphin rush because it's gentle but guess what, it does the same thing as running.
Improves the quality of sleep
All of the above factors are interconnected – including healthy sleep. From lack of sleep (especially chronic) we are more prone to stress and depression, we constantly feel tired and feel a lack of energy. Walking and meditating are proven to help with sleep.
As you can see there are so many benefits to this amazing and accessible practice.
What benefits have you found?
Join us by signing up to receive mindfulness tips!